Water Damage in Bakersfield
911 Restoration of Bakersfield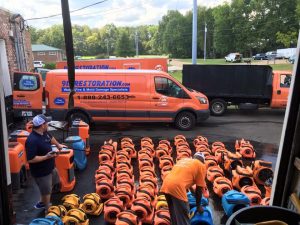 Water emergencies in Kern County need to be resolved quickly in order to avoid costly and harmful damage. The first step in getting your property back in a safe condition is contacting the water damage experts from 911 Restoration of Bakersfield.
You can count on our IICRC certified technicians 24/7/365 to respond to your water damage emergency within 45 minutes. Providing you with long term and quality water damage repairs after a leak or flood, 911 Restoration of Bakersfield works hard to restore your home or business even better than its original condition. Our experience, training and advanced equipment allows us to work thoroughly and efficiently while minimizing damages. Call us today at (661) 220-7584 to conduct a free visual inspection.
Disaster Restoration Relief When You Need It Most
Fully prepared and equipped, our team is ready to get to work right away. Should the water damage professionals in Bakersfield find that your property is plagued with issues like sewage backups, mold growth or pipe bursts, they will determine a repair plan and get to work right away.
Don't prolong your repairs. Call 911 Restoration of Bakersfield to get immediate assistance and the most affordable prices in the city!
Water Damage Restoration
Our water damage technicians in Bakersfield are licensed, bonded, insured and IICRC certified. Having undergone rigorous training in handling numerous water damage situations, you can trust their knowledge and experience will resolve any water damage emergency. Some of these issues can be as a result of:
Plumbing issues
Roof leaks
Storm damage

Sewage overflow

Flood damage
Frozen Pipes

Pipe Bursts

Appliance leaks
Fire sprinkler malfunction
Our water damage repair techs in Bakersfield utilize advanced tools and drying equipment, such as vacuums, blowers, and special infrared cameras to make sure there is no lingering moisture left behind.
Certified Restoration Experts in Bakersfield, CA
At 911 Restoration of Bakersfield, we offer a Fresh Start with our comprehensive selection of property damage restoration services, including but not limited to:
Whether you're a California homeowner or business owner, 911 Restoration of Bakersfield is your Fresh Start! We'll communicate with you throughout the entire process, help answer questions related to insurance, and restore your property to its pre-damaged condition. One of our IICRC-certified teams is dispatched within 45 minutes of your call! Contact us today, and one of our friendly representatives will assist you in finding the nearest California location.
If you are in need of immediate assistance and a Fresh Start after a flood damage, call our flood cleanup pros in Bakersfield with 911 Restoration, today!
Service area map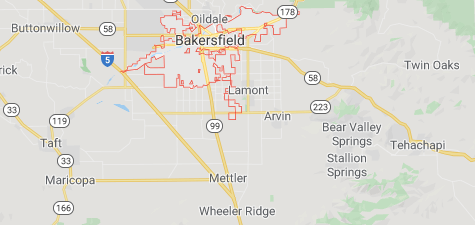 Cleaning Services & Disinfection Solutions
Water damage isn't the only threat in Bakersfield. With the continuing spread of coronavirus, it's affected everyone on a global scale, from businesses to individuals. Fortunately, by everyone working together we can do our part to correct this problem and move forward.
Property owners have a responsibility to take things a bit further. They need to ensure their buildings are also clean. This ensures the people who come in contact with your building remain protected every day. For this reason, 911 Restoration of Bakersfield remains ready to deliver cleaning services along with various disinfection solutions for both residential and commercial properties. Our technicians are trained to follow all current CDC and EPA protocols to ensure fully compliant results. As a community, we can get through this troubling time. Trust us to deliver the peace of mind you've been waiting for. Call us our home cleaning services for covid-19 and see how we can help.
Frozen Pipes and Burst Pipes
During freeze warnings, it's important to remember to turn on your heater to warm up your property to help prevent frozen pipes and pipe bursts. Do not forget to bring in your furry friends in your home to keep them safe. Water damage can cause major disruptions if it freezes. In the event of a burst pipe, our IICRC-certified technicians are ready to rush to your home or business within 45 minutes to provide you with a Fresh Start.
Mold Removal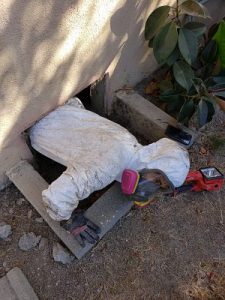 Mold growth typically occurs as a result of exposure to moisture. It thrives on moisture and dark areas like crawlspaces. It will take a pool of stagnant water no more than 48 hours to become contaminated with bacteria and mold spores, but it may take several weeks before you start noticing it.
Mold is undoubtedly harmful as it can spread and deteriorate other sections of your home. In time, mold spores can trigger health issues such as asthma and coughing. When you call the certified mold specialists at 911 Restoration for help, we go the extra mile to ensure every area is thoroughly inspected and cleaned.
The remediation process begins with our mold remediation Bakersfield CA team in Bakersfield inspecting your home. They'll gear up with hazmat suits and begin to remove all traces of mold using eco-friendly cleaning solutions. Our techs clean everything, top to bottom, and will answer any questions along the way.
Don't let any dangerous mold linger in your home and take care of it right away. Call the mold removal pros in Bakersfield with 911 Restoration for mold remediation services so you can breathe safely again.
Sewage Backup Cleanup
A sewage backup is one of the most dangerous water damage issues that can affect your property. This is because sewage contains waste that can spread all kinds of bacteria and diseases. When a sewage backup situation happens, taking immediate action is vital. It's not only messy and expensive, but it can cause serious health issues.
Should an emergency happen, our sewage backup specialists in Bakersfield are prepared to offer you the best of their knowledge and experience. Equipped with hazmat suits, our sewage backup pros in Bakersfield utilize advanced tools and equipment to eliminate all traces of sewage from your home. All affected areas are cleaned and cleared with industrial strength and eco-friendly cleaning solutions.
Our specialists work hard to ensure your home is safe and free from any harmful elements. Nothing gives you peace of mind like knowing you can trust the professionals. If you are facing a sewage situation in your home or commercial property, call sewage backup cleanup Conner CA from 911 Restoration today at (661) 220-7584!
Fire Damage Restoration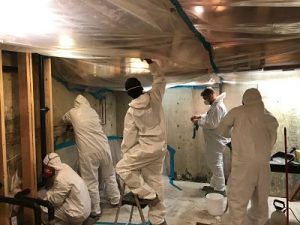 Fires cause complete disasters, and they are without a doubt one of the scariest situations you can face at home. Once the fire has been extinguished, the leftover water, ash, and soot are known to cause more damages and issues. These are the types of situations our fire damage experts in Bakersfield are trained in. We'll make sure the restoration process isn't a burden, but the opportunity for a Fresh Start!
Our team works around the clock to make sure that all leftover water is removed from your property. Using high-powered tools, water extraction machines, vacuums, and blowers, any lingering traces of ash and soot will be detected and removed. Nothing remains but the clean look and feel of a Fresh Start!  Our techs always deliver the most professional results.  Give us a call, if you've suffered a fire or fire-related disaster.
The fire damage pros in Bakersfield provide quality restoration repairs in such a way that your home will feel brand new again. Should you need immediate assistance after a fire situation, call our fire damage restoration services pros in Bakersfield pros today!
Disaster Restoration
A disaster can happen during or after a storm, flood, or blizzard. These are all intense circumstances that require many safety measures and sharp attention to detail. If you find your property facing the threat of a natural disaster, no need to worry or fret, our alert disaster restoration Bakersfield CA team will help you address any challenges within 45 minutes of your call.
Our licensed, insured, and bonded disaster restoration technicians in Bakersfield use the latest advanced equipment to efficiently resolve your water damage-related emergencies. We even go as far as inspecting those hard-to-see areas such as between drywalls, in crawlspaces, attics, and basements.
You can trust that 911 Restoration will be there to take care of your issues. We'll mitigate frozen pipes, pipe bursts or leaks, home or business flooding, mold growth, and fire or smoke damage. For quality and top-notch restoration solutions in Kern County and its surroundings, call our IICRC-certified experts at 911 Restoration of Bakersfield at (661) 220-7584.
Serving the communities of Bakersfield, Buttonwillow, Wasco, Shafter, Lost Hills, Delano, Lamont, Arvin, Mettler, Wheeler Ranch, Edison, Oildale ,Pine Mountain Club ,Tehachapi, McFarland, Kern County and surrounding areas.