Water Damage in Wheeler Ranch
Despite the arid climate, homes and businesses in Wheeler Ranch are susceptible to feeling the impact of leaks and floods. You can find yourself in these situations when your washing machine malfunctions or your dishwasher overflows. The technicians at 911 Restoration of Bakersfield are available 24/7/365 to respond to any water emergency you may be experiencing. It doesn't matter if you reach out day or night, the repair techs will get to your door within 45 minutes of receiving your call. They are ready to administer water damage restoration in Wheeler Ranch the same day they arrive on the scene.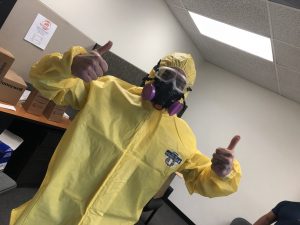 911 Restoration of Bakersfield has been in the industry for decades, and technicians understand how quickly a leak can manifest into rotting drywall and mold growth. 
As soon as technicians arrive on the scene, they will perform a free visual inspection for the property owner. During this assessment, they will determine the extent of the damage, look for the source of the water intrusion, and formulate an estimate.
If you are dealing with a water emergency, the repair techs are prepared to conduct same-day, water damage restoration. The sooner they start the water remediation, the better the chances are of minimizing your losses.
Customers can trust that our technicians can handle any size water disaster impacting your home or business. 911 Restoration works with IICRC certified repair techs who trained to conduct water remediation in both residential and commercial properties.
On top of employing qualified, experienced professionals, the entire water damage restoration company is licensed, bonded, and insured for the protection of the Wheeler Ranch community.
So, call 911 Restoration of Bakersfield when you want help from a restoration company you know cares and understands what you need. We are ready to provide you with expert flood cleanup in Wheeler Ranch today!
Emergency Water Damage Repairs Available Around The Clock
Increased moisture can quickly go from manageable water damage to severe mold growth and rotting drywall, issues that can impact the structural integrity of the property.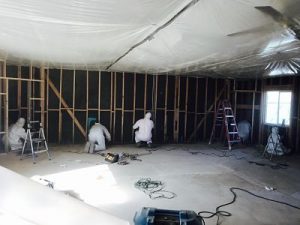 911 Restoration of Bakersfield understands the urgency of situations involving water damage, and their technicians will never make you want long for leak repair and flood cleanup services. 
The office is open around the clock so customers can reach our technicians the moment they experience a water disaster. The sooner you receive help, the better the chances are of minimizing your losses.
It only takes 24 hours for mold to grow after it has been exposed to moisture. However, sometimes, it is not possible to spot water damage right away, and mold is given the opportunity to grow.
If technicians see signs of a mold infestation in the property while they are conducting the water damage restoration, they can perform mold removal in conjunction with the water remediation.
Repair techs will look in the attic, crawlspace, air ducts, and all those other hard-to-reach places in the property to check for signs of mold. They will work meticulously until your home or business passes their mold clearance test.
Call 911 Restoration of Bakersfield when you need comprehensive remediation services today. They will give you peace of mind by completely restoring your property from even the most critical circumstances.
A Water Restoration Company That Does So Much More Than Flood Cleanup
When customers are amid a water crisis, they immediately need answers. Most people want to know how bad the damage is, how much it is going to cost to repair it, and if we accept insurance.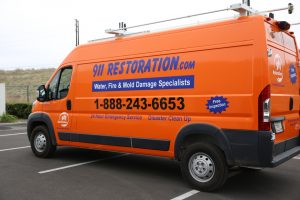 The technicians will be able to give you information regarding the extent of the water damage after they provide the property owner the free visual inspection. By surveying the situation in person, they can give you an estimate of the required water damage restoration.
911 Restoration of Bakersfield does accept insurance and their staff members offer free insurance consultations to all of their customers. When a professional goes over your policy, you can fully realize the coverage you are entitled to receive.
Repair techs on-site will assist customers in taking inventory of the property damage and account for all their other losses. By creating a list of you lost items and submitting it to your insurance provider along with your claim, you will have a better chance of obtaining full coverage.
Technicians are committed to keeping your losses to a minimum during the flood cleanup work, and they will facilitate the pack-out and storage procedures needed to keep your belongings safe.
You can depend on us to help you with literally anything needed to ensure your property is recovered in full after a disaster. So, call 911 Restoration of Bakersfield when you need water remediation from a team you can trust to give you the Fresh Start you deserve.
Servicing the cities of Arvin, Bakersfield, Buttonwillow, Delano, Edison, Kern County, Lamont, Lost Hills, McFarland, Mettler, Oildale, Pine Mountain Club, Shafter, Tehachapi, Wasco, Wheeler Ranch, and surrounding areas.