Water Damage in Lost Hills
In Lost Hills, the most common causes of indoor water damage are issues involving the dishwasher, washing machine, and plumbing system. Any device that is attached to the property's main water line runs a risk of malfunctioning and causing leaks or flood damage. 911 Restoration of Bakersfield expertly understands the problems associated with household technology, clogged drains, and pipe bursts. Their technicians will waste no time administering water damage restoration as soon as you experience a water-based disaster in your home or business. The Bakersfield office is open 24/7/365, making it possible for customers to call as soon as they need flood cleanup services. Repair techs guarantee to arrive within 45 minutes of receiving your call.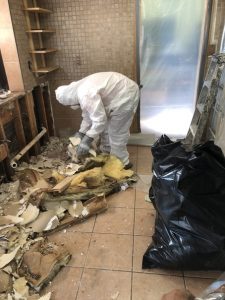 Technicians will conduct free visual inspections for property owners. During this assessment, repair techs will be able to determine the extent and source of the water damage to formulate an estimate.
If you need emergency water damage restoration in Lost Hills, the professionals will administer same-day, water remediation. The faster your receive restoration services, the better the chances are of minimizing your losses.
Along with providing prompt water restoration, technicians are trained to conduct mold decontamination. More often than not, the increased moisture levels lead to a mold infestation, a situation we are readily able to mitigate.
Customers can trust that our technicians will take care of every aspect of the water damage incident. We work with repair techs that have earned their IICRC certification and have extensive experience in the field.
By being licensed, bonded, and insured, customers can feel completely protected when they hire 911 Restoration of Bakersfield. Call the restoration company you can trust when you need leak or flood cleanup in Lost Hills. Our team will give you peace of mind as soon as they arrive.
Expert Leak Detection And Water Damage Repairs
There are specific water damage scenarios that come on strong and hard, such as pipe burst emergencies and storm damages. However, sometimes it can be less obvious that you have leak or flood damage in your property.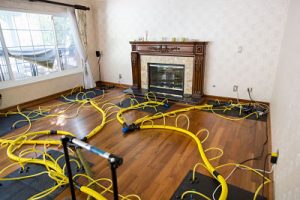 Regardless of the apparent severity of your situation, it is crucial to have the professionals at 911 Restoration of Bakersfield give the property owner an inspection of the damage.
Technicians will be able to use professional equipment to check the moisture levels in areas of the home or business that are not accessible. They will use leak detection tools such as infrared technology to check for water damage inside walls, underneath floorboards, and in the ceiling.
They will also check your water-based appliances and plumbing system for ruptured hoses, faulty seals, and cracked pipes that could be creating the leak or flooding event.
Once they have figured out the cause of the invasive moisture, technicians will take immediate action. They will administer water extraction, drying, and dehumidifying services to thoroughly repair the damages.
Customers can be sure that every aspect of the water damage restoration will be taken care of completely. From leak repairs to flood cleanup, you can trust 911 Restoration to handle everything. So, give us a call today!
A Water Restoration Company That Emphasizes Customer Service 
As important as it is to provide the Lost Hills community with expert water damage restoration, it is even more critical to deliver exceptional customer service.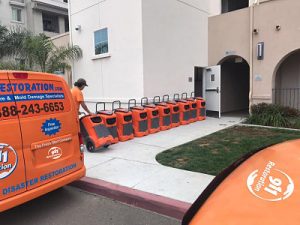 The entire staff at 911 Restoration of Bakersfield puts an emphasis on ensuring each customers' wellbeing is intact. 
Staff members understand how overwhelming it can be to deal with a water disaster, and they want to make the experience as positive as they can for you. 911 Restoration does this by spreading the Fresh Start attitude.
Our mission is to show you that even the most severe circumstances can actually be turned into a Fresh Start.
For example, if the dishwasher floods your kitchen, technicians will use thorough flood cleanup techniques to transform it into the culinary space of your dreams.
There isn't a task too large for our professionals. Along with conducting water remediation services, repair techs will facilitate the pack-out and storage procedures needed to keep your belongings safe while the repair work takes place.
If you need help with the insurance logistics, a staff member will provide you with a free insurance consultation. By having a professional go over your policy, you will be able to figure out the extent of your coverages. Technicians will assist you with taking inventory of your losses and creating a lost itemization list to send to your insurance company. They will also directly bill your provider and submit your claim for you.
Call 911 Restoration of Bakersfield when you need help from a team that will take care of everything you need. Technicians will conduct the water damage restoration services required to give you your Fresh Start today!
Servicing the cities of Arvin, Bakersfield, Buttonwillow, Delano, Edison, Kern County, Lamont, Lost Hills, McFarland, Mettler, Oildale, Pine Mountain Club, Shafter, Tehachapi, Wasco, Wheeler Ranch, and surrounding areas.