Fire Damage Restoration
Property damage comes in all forms and sizes but the most destructive of them all is fire and smoke damage. Whether it's a small kitchen fire or huge blaze, the impact to your property makes for a guaranteed need for fire damage restoration to get back to good as new.
We know that fires are extremely serious and can happen at any time. Due to this, you can count on us for:
24/7/365 Availability

Free visual damage estimate

Same-day service

Call us at 661-220-7584
Fire and smoke damage leaves behind odor, ash, and soot in your property. That's why we go above and beyond for our customers during our fire damage restoration process. We strive to make a potentially chaotic time as stress-free and smooth as possible.
When you need fire restoration in Bakersfield, call 911 Restoration of Bakersfield today! We'll handle every aspect of your fire damage restoration in Bakersfield and surroundings from start to finish. A Fresh Start is right around the corner, give us a call at 661-220-7584.
Fire Damage Restoration in Bakersfield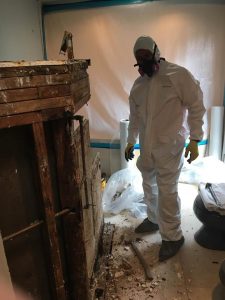 Fire damage restoration in Kern County is a complex process that goes beyond the fire itself for a complete job done. As part of our services we offer:
Free visual fire damage assessment

Smoke removal
Odor removal

Property restoration

Insurance assistance

Latest fire cleaning techniques

Storage and inventory
Reconstruction
In addition to our fire damage services, we also offer additional help to address secondary property damage suffered by owners. In order for a fire to be put out, water or water-based solution has to be used. This is usually released through the sprinkler systems, but can also be a result of the efforts from the fire department. The amount used almost always results in a bit of water damage accompanying your fire damage. If left unattended for too long, the water damage can also cause mold contamination. That's why a quick and thorough response is critical to your emergency restoration. The impact of your property damage only grows the longer it's left alone. That's why we provide comprehensive restoration services within 45 minutes of receiving your phone call.
Staying ahead of your emergency restoration is key. Call Water damage restoration Bakersfield at 661-220-7584 for all of your emergency restoration needs from fire damage to mold removal. Any time day or night we'll be there to deliver a Fresh Start to our customers.
Smoke Damage Restoration & Odor Removal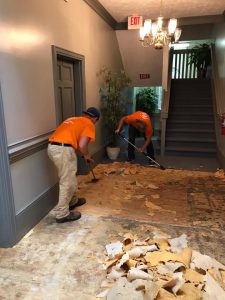 Fire damage extends beyond the flames and water used to put it out. What's left behind after the fire is smoke damage along with soot and ashes. These materials require puffback cleanup services to properly clean. As part of our alert disaster restoration Bakersfield CA approach, we focus on deodorizing and cleaning off the residue so that your property looks and smells as good as new. Our IICRC-certified technicians are ready to get to work on your property damage while providing you with information at every step of the process.
Our comprehensive approach goes beyond the physical side. Fire and smoke damage usually happen without the ability for the owner to be prepared. This can create a financial burden that you just aren't prepared for. Fortunately, most property owners have insurance to help with this problem. However, the claim process can be difficult to navigate and time-consuming when you don't know the best practices.
Do You have Coverage for the Fire Damage?
That's why we have taken our years of experience and put it to work in helping you on the financial side of your emergency restoration. We have worked with every type of insurance company and know exactly what is needed to get the claim approved. In fact, if you choose to have us do so, we can even file the claim on your behalf.
Suffering from fire damage is difficult enough. You shouldn't have to worry about the fallout as well. Our customers know they can count on us for professional fire cleanup in Kern County and to support them with care and understanding every step of the way. With us, you can count on peace of mind while we fix the fire damage, water damage, smoke damage, odor removal, and any other form of property damage that befalls you. When we're done your property will be better than it was before. That's part of our Fresh Start guarantee.
Backed by nationwide resources with a local owner mentality, you can count on us to know exactly what you're going through. No matter how big or small your restoration needs are, we have you covered from start to finish. Call our IICRC-certified 911 Restoration experts of Bakersfield today for your fire damage restoration at 661-220-7584. Get the Fresh Start you need.