Water Damage in Oildale
The Oildale community deserves to have access to a restoration company that is prepared to provide property owners with affordable, high-quality, water damage restoration services. Even though the weather rarely creates leak and flood issues, washing machine malfunctions, faulty dishwashers, sewage overflows, and plumbing leaks are common occurrences in Oildale. 911 Restoration of Bakersfield is prepared to provide emergency flood cleanup and leak repair services as soon as you need help. Their technicians are available 24/7/365, and they guarantee to arrive within 45 minutes of receiving your call. If you are experiencing a water disaster, they will conduct the same-day, water remediation required to give you a full recovery.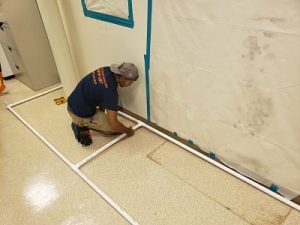 When technicians arrive on the scene, they will immediately give the property owner a free visual inspection. By thoroughly assessing the situation, they will get an idea of the extent of the water damage and formulate an estimate.
The repair techs are capable of mitigating even the most severe circumstances. They are trained to execute mold decontamination, sewage backup cleanup, and water damage restoration in Oildale.
911 Restoration works with experienced professionals who have earned their IICRC certification from the Institute of Inspection, Cleaning, and Restoration. The IICRC sets the standard for success in the restoration industry.
We want customers to feel totally confident in our ability to handle any situation, which is why our entire organization is licensed, bonded, and insured for your protection.
Our technicians are experts at conducting leak repair and flood cleanup in Oildale, and they are confident they can recover your property from any disaster. Call the team you know cares and understands what you need out of a restoration company today!
Property Damage Restoration Services After A Leak Or Flood Incident
When water infiltrates your home or business, it not only is susceptible to incurring water damages, but the structure can be affected by mold and rot severe enough to cause structural issues.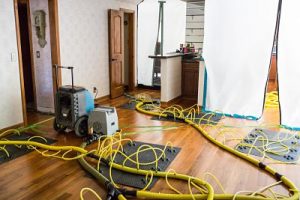 Mold can begin to develop within 24 hours of being exposed to moisture, giving technicians a very tight timeline to prevent the growth from sprouting. The hot temperatures in Oildale can help create the warm, damp indoor climate needed for mold production.
If repair techs are called to conduct leak repairs or flood cleanup services, they will keep a lookout for signs of mold as they survey the water damage. They are familiar with the spaces that mold and mildew tend to grow and will check them during their initial inspection.
It is crucial to address a mold problem head-on because of its ability to eat through wood and drywall. If a mold colony has been living inside your walls for quite some time, it can cause the drywall and wooden elements to deteriorate.
Since you can not always see mold growth, it is essential to reach out for water damage restoration at the first sign of leak damage or water stains. Invasive moisture can usually be an indicator that mold may also be present.
With comprehensive water remediation services, technicians can greatly minimize mold and property damage in your home or business. Call 911 Restoration of Bakersfield right away and let our repair techs get started on making the repairs you need today!
Customer Service Is Integral To Water Damage Restoration
Whether your situation requires straight-forward, flood cleanup services or needs extensive, water and mold decontamination efforts, 911 Restoration of Bakersfield will be there for you.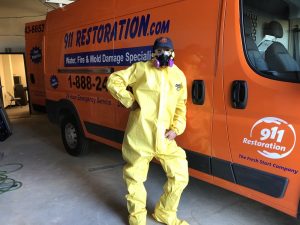 Their highly trained technicians have been in the restoration industry for decades, and they have seen just about every situation imaginable. Through all of their experience, the repair techs have come to understand the impact that quality customer service has on the job. 
When customers in Oildale come to us, they are understandably confused and concerned. They need answers and want to know how quickly they can receive water damage restoration.
Our staff members are ready to give you all the information you need, putting your mind at ease and reassuring you that everything is going to be ok. Technicians on-site will be able to answer your questions regarding the cost of the repair work and give you a timeline of the restoration process.
Staff members will provide customers with a free insurance consultation to help you understand what is covered in your policy. They will submit your insurance claim for you and bill your provider directly.
911 Restoration of Bakersfield will use its expert knowledge of water remediation to give you peace of mind. Call us to see how our entire staff is committed to presenting you with the Fresh Start you deserve.
Servicing the cities of Arvin, Bakersfield, Buttonwillow, Delano, Edison, Kern County, Lamont, Lost Hills, McFarland, Mettler, Oildale, Pine Mountain Club, Shafter, Tehachapi, Wasco, Wheeler Ranch, and surrounding areas.