Water Damage in Buttonwillow
Despite the arid climate in Buttonwillow, there is still an opportunity for water to invade homes and businesses in the area, creating leak and flood damage. The winters are known for being the wettest time of year. However, aside from severe weather, toilet overflows, pipe bursts, and leaky AC units can all cause water damage. 911 Restoration has been in the restoration industry for decades, and their technicians understand how to mitigate leak and flood problems, no matter how the water damage is created. Technicians will never keep you waiting when you need water damage restoration. They are available 24/7/365 and guarantee to arrive at your property within 45 minutes of receiving your call.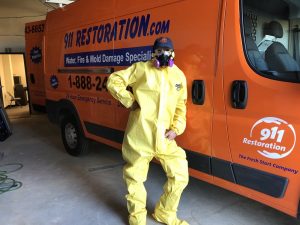 911 Restoration of Bakersfield understands how important it is to act with urgency when it comes to water damage restoration in Buttonwillow. If water is left to sit on surfaces of the property, it can lead to structural damage and mold. 
As soon as technicians arrive on the scene, they will provide the property owner with a free visual inspection. During their assessment, they will survey the damage and provide you an estimate for the water restoration needed.
If you find yourself in need of emergency flood cleanup services, the repair techs are prepared to administer same-day, water damage repairs. The sooner they conduct water damage cleanup, the better than chances are of minimizing your losses and preventing mold.
Customers can expect to receive complete water extraction, drying, and dehumidifying services. Technicians will also test and evaluate your structure for damages.
Call 911 Restoration of Bakersfield when you need water damage restoration from a team that cares and understands your needs. We will provide you with the complete property restoration required to give you a Fresh Start!
Emergency Flood Cleanup Will Help Prevent Mold
There is no time to waste when it comes to conducting flood cleanup in Buttonwillow or anywhere else in Bakersfield. The warm, year-round temperatures make it easy for mold to grow out of the water damage.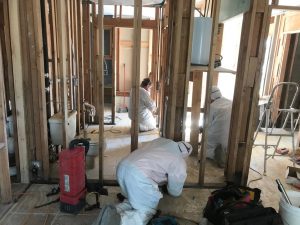 In just 24 hours, you can start seeing signs of a mold infestation. Due to the speed at which spores can develop, prompt water damage restoration is crucial.
When technicians arrive on the scene, they will check the premises to determine the extent of the water damage and to see if any mold has begun to grow. They will also look for the source of the problem and make any structural repairs needed.
If you have experienced a pipe burst, sewage overflow, or any other type of indoor flooding, repair techs will immediately begin extracting the bulk of the water.
Once the flood has been contained, drying and dehumidifying techniques will be employed to remove as much moisture from the property as possible. The drier technicians get the structure, the better the chances are of stopping mold production.
In some cases, mold may have already started to appear from the water damage. Fortunately, technicians are ready to conduct mold decontamination services in conjunction with the flood damage repairs.
Call 911 Restoration of Bakersfield as soon as you notice signs of invasive water or mold inside your home or business. Technicians will provide you with schematic water damage repairs today! 
Technicians Who Can Handle Every Aspect Of The Water Damage
To 911 Restoration of Bakersfield, water remediation is more than just repairing leak and flood damage. It involves exceptional customers service to ensure all your needs are met.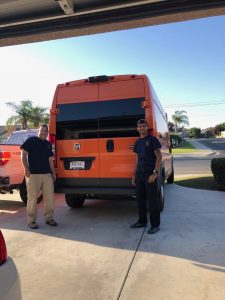 Staff members are ready to answer all your questions as soon as you call the office. By giving you all the information surrounding the water damage restoration, we hope to make you feel relief regarding the situation.
Many customers have questions surrounding the cost of water restoration services. 911 Restoration makes sure to keep its prices competitive and works with all insurance companies.
If you have never had to file an insurance claim for water damage repairs or flood cleanup services, our staff will provide you with a free insurance consultation. A professional will go over your policy with you to help determine the coverages you are entitled to receive from your insurance provider.
The staff at 911 Restoration of Bakersfield wants to make the water restoration go as smoothly as possible for every customer. Members will guide you through every step of the process, staying available to answer your questions along the way.
Call the water damage company you can trust to take care of you when you need professional repair services. We will show you how a water emergency can be the Fresh Start you deserve.
Servicing the cities of Arvin, Bakersfield, Buttonwillow, Delano, Edison, Kern County, Lamont, Lost Hills, McFarland, Mettler, Oildale, Pine Mountain Club, Shafter, Tehachapi, Wasco, Wheeler Ranch, and surrounding areas.