Water Damage And Mold Removal In Arvin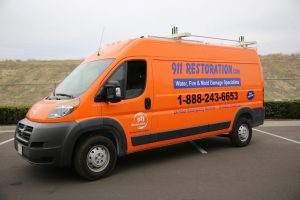 You've worked hard to create and preserve a property you can be proud of. Whether it's a home designed to be your refuge, or the business property that represents your hard-won career, nothing is more devastating than seeing that space hit by water damage.
The good news is, there's an emergency flood cleanup company available to turn that disaster around at a moment's notice. From pipe bursts to storm and flood damage, the water damage restoration technicians at 911 Restoration of Bakersfield are standing by 24/7/365. No matter when you call, day or night, you can expect to hear a human voice on the other line. Even better, we guarantee an arrival time of 45 minutes or less. That means you could dial now and have a flood cleanup crew at your door within an hour.
Our water damage restoration experts have extensive experience handling flood cleanup and mold removal in Arvin. They value every customer as a member of their personal community, and you can expect them to handle flood damage repair with compassion and care. They are IICRC certified and highly trained in everything from water extraction to structural repair to mold inspection and mold remediation. They work with every insurance provider and communicate clearly with you so you understand all the benefits you are entitled to and how to get them.
When you reach out to 911 Restoration of Bakersfield, you're not just calling on a water removal company. You're recruiting full-service water damage restoration experts who know how to turn your devastating flood damage into an opportunity to start over, with a healthier property than ever.
Call 911 Restoration today for a truly Fresh Start.
Emergency Flood Cleanup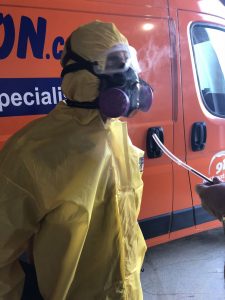 Arvin sees its fair share of heavy rains, winter storms, and mudslides. With rough weather and natural disasters comes inevitable water damage for local properties.
The water damage restoration techs at 911 Restoration are fully prepared for all the disasters local property owners face. Whether it's a routine home incident like a pipe burst or a flooded basement in a storm, these water damage restoration specialists are ready to be at your property in a moment's notice. They provide several emergency cleanup services, including emergency storm repair, leak detection, boarding up, packing out, and water extraction. Your dedicated flood cleanup crew acts quickly, because they understand that the longer water lingers in your home or business, the greater your damages will be. They work diligently to minimize costs by reducing your risk of further destruction and expenses for repairs and mold decontamination.
They use professional grade water damage restoration dehumidifiers to fully dry the structures of your home or business. Through structural testing, they determine if any part of your property needs to be repaired. If so, they handle that, too—from repairing drywall to eliminating ceiling leaks.
For the flood cleanup crew of 911 Restoration, water damage restoration isn't truly complete without a thorough mold inspection. After a water incident, there is always a high risk of mold contamination. Our experts carefully examine your walls, flooring, ceiling, and carpet for any signs of mold. If they find anything, they handle mold removal carefully.
At 911 Restoration of Bakersfield, we prioritize your peace of mind above all else. This means immediate attention, damage prevention, and compassionate service. If you need water damage restoration in Arvin or the surrounding area, reach out today.
Certified Mold Remediation Contractor In Arvin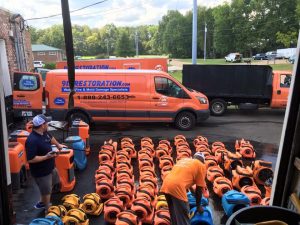 The flood damage repair crew at 911 Restoration always conducts a mold inspection after a pipe burst or other water incident. Why? Because mold spores can turn into a full-blown infestation with less than 48 hours exposure to damp surfaces. Mold often thrives in dark, unseen places. And if you think you have an infestation, it's essential that you call on a certified mold remediation contractor.
Many property owners would rather handle mold removal themselves. The problem with this is that there is no foolproof home remedy for mold. Plus, certain varieties of mold—such as black mold—can be highly toxic. If you try to be your own mold removal specialist, you risk kicking toxins up out of the mold and into your lungs as you scrub.
The far safer option is to call on an IICRC certified mold decontamination company like 911 Restoration of Bakersfield. The mold remediation experts are trained for mold inspection and safe decontamination. They remove mold completely, using professional tools to dehumidify the area where the growth was found to prevent a recurrence.
From pipe bursts and property floods to mold growth and mold inspection in Arvin, let 911 Restoration be your go-to water damage restoration expert. Our specialists are standing by, ready to take your call and guide the way to a Fresh Start.
Servicing the cities of Arvin, Bakersfield, Buttonwillow, Delano, Edison, Kern County, Lamont, Lost Hills, McFarland, Mettler, Oildale, Pine Mountain Club, Shafter, Tehachapi, Wasco, Wheeler Ranch, and surrounding areas.