Mold Removal in Services Bakersfield
Mold is a naturally occurring substance that grows outdoors, but in this case, "natural" does not mean that it is safe. Left untreated, a mold infestation inside of your Bakersfield home or business property can cause serious structural issues, as well as health problems, including asthma, wheezing, allergic reactions, and other respiratory problems. Thankfully, the mold remediation experts at 911 Restoration of Bakersfield can provide you with swift relief. You can call us at 661-220-7584 and you can be sure that we will answer your phone no matter the time of day.

We understand that a mold infestation inside of your property can be a scary situation and it's one that should not be ignored. Our IICRC certified technicians have the knowledge, experience, and equipment to safely and efficiently remove your mold problem. Our services are available around the clock, 24/7/365 at 661-220-7584. Day or night, whether you're located across the street or across the county, 911 Restoration of Bakersfield will be at your door within just 45 minutes.
Why You Need Prompt Mold Removal Services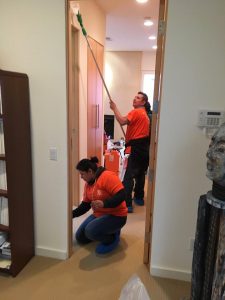 Mold is an organism that can be found in damp, dark environments and can grow on just about any substance. Mold spores are the byproduct of mold growth, and these pesky particles move through the air currents both inside and outside of your house. This means that even if your mold infestation is kept to one room, the mold spores can travel to other locations inside of your property.
Whether from a burst pipe or basement flooding, water damage inside a property creates the perfect haven for mold to thrive. If water damage is left untreated, mold will start to grow and create a full-blown infestation.
Mold can damage your house or commercial property in several ways. Not only is a mold contamination accompanied by unsightly brown, yellow, and green stains, it also has an unpleasant musky odor. And this is only the beginning.
Mold feeds on organic materials, including paper, wood, and many fabrics. It literally breaks down the materials, causing them to rot and fall apart. If left unchecked, your mold infestation will destroy your furnishings, carpets, drywall, and the structural integrity of your property.
Additionally, mold will lead to nasty health complications, especially for young children and seniors. This is why it is critical to tackle the problem with expert mold remediation services from 911 Restoration of Bakersfield. Our crew of seasoned mold removal technicians will deal with the problem right away, helping your home to be safe once again. Give us a call at 661-220-7584.

Expert Mold Inspection and Cleanup Services with a Caring Touch
If you have noticed discoloration to your walls, a musty odor, or that you have been coughing more than normal, it's time to call in the mold decontamination experts. The sooner 911 Restoration gets started on our mold cleanup services, the better.
Not only are our services swift, but they are empathetic as well.
We understand that needing mold removal services is a stressful and scary time. This is why we offer a "fresh start" methodology for all of the services we provide. We want you to feel safe and sound in your home or commercial building once again. Our mold remediation services will not only get out all of the mold, it will offer you a fresh new chapter and a chance to start anew.
Other benefits of working with our mold cleanup crew include:
A free visual mold inspection for property owners only

Structural drying and dehumidifying
How Can Our Mold Remediation Experts Help You?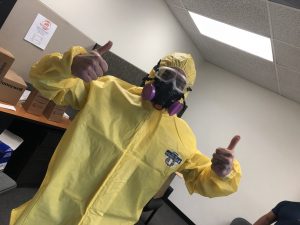 A mold infestation isn't a straightforward problem that you can easily do away with yourself. If you attempt to remove the mold, you could easily miss a spot and that will enable the fungus to gain a substantial foothold after a short time. Our experts at 911 Restoration of Bakersfield are familiar with how mold grows and behaves, so we will be sure to get the mold removal process right the first time around.
If you are experiencing a mold problem in your home or commercial building and need mold remediation services right away, contact 911 Restoration of Bakersfield today. We will be at your front door within the hour and will get started on the mold cleanup process immediately. Our team is available 24/7/365 to offer you expert and empathetic services that will rid your home of your mold infestation for good. Reach out to us at 661-220-7584.

We proudly service the cities of Bakersfield County, Bakersfield, Buttonwillow, Wasco, Shafter, Lost Hills, Delano, Lamont, Avin, Mattler, Wheeler Ranch, Edison, Oildale, Pine Mountain Club, Tehachapi, McFarland, Kern County, and the surrounding areas.