Mold Removal in McFarland
Mold can seemingly come out of nowhere, costing property owners big bucks to repair all the damage. Fortunately, if you own a home or a business in McFarland or the surrounding area, a cost-effective solution is only one call away. 911 Restoration of Bakersfield doesn't only handle water damage restoration; they offer full-service, property restoration. Their technicians will repair any water damage, administer thorough mold cleanup services, and completely dry and dehumidify the area. By keeping our office open 24/7/365, the repair techs are ready to respond to water damage emergencies right away. They will arrive within 45 minutes to conduct water restoration, which will aid in minimizing any mold growth.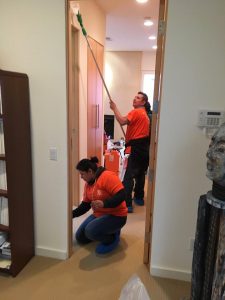 911 Restoration of Bakersfield employs technicians that are IICRC certified, meaning they have reached the highest standards set by the Institute of Inspection, Cleaning, and Restoration. 
Our repair techs are highly trained in every aspect of mold restoration in McFarland, including structural repairs, water remediation, and mold removal, not to mention exceptional customer service.
Property owners will receive a free visual inspection. This initial assessment allows technicians to determine the extent and source of the mold infestation to formulate an estimate.
Customers are also offered free insurance consultations, so you don't have to wade through the details of your coverage alone. They clarify which benefits you're entitled to and help with loss itemization, file your claim for you, and bill your provider directly.
911 Restoration has decades of experience mitigating mold problems, and it has seen every form of water damage contributing to those incidents. Our technicians know that the best way to ease your mind is to work quickly, communicate clearly, and value your property as sincerely as you do.
Your peace of mind is our number one concern, which means we take every step towards leaving you with a property that is clean, sanitized, and fortified against future mold infestations.
Call 911 Restoration of Bakersfield today, and let our dedicated mold removal experts turn this disaster into a Fresh Start for you and your property. 
Emergency Flood Cleanup Can Aid In Successful Mold Restoration
Winters in McFarland are the wettest and coldest time of year. Homes and businesses are not used to the impact of heavy rainfall, putting them at risk of experiencing water damage.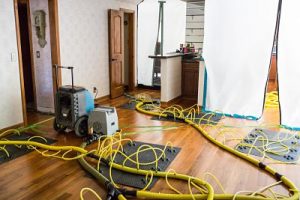 It is crucial to take immediate action when your property becomes invaded by a leak or a flood. Your best bet in preventing carpet contamination, structural weakness, and toxic mold growth is to call 911 Restoration of Bakersfield.
Upon arrival, technicians will conduct a free visual inspection for property owners so they can understand the extent of the water damages, check for signs of mold growth, and strategize a restoration plan.
The mold specialists will quickly get to work with a streamlined mold restoration system for addressing the root of the problem with roof repair, and leak detection. They also waste no time in extracting the water from your property so they can quickly bring in dehumidifiers to dry the area out and salvage your drywall and flooring.
In the case of incidents involving gray and black water, repair techs will sanitize the space to protect you from bacteria and viruses in the water. If any of your surfaces have been destroyed, they will tear out the damaged areas and replace it with new materials.
The technicians aren't just about getting rid of the water and mold. They want to make sure they've totally decontaminated the property by taking every measure necessary to protect your home or business going forward.
There is no need to deal with a water intrusion or mold infestation on your own. For full-service relief from a mold removal company that cares and understands your needs, call 911 Restoration of Bakersfield today!
Expert Mold Cleanup in McFarland Administered With Professionalism
As we have learned, indoor mold is a prevalent problem following a water damage incident. Mold spores are always in the air, and when the surfaces of your property are exposed to moisture, they can flourish quickly.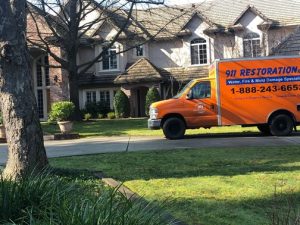 Mold spores can blossom into a full-blown, mold infestation within 24-48 hours of being exposed to moisture. The ferocity at which spores can spread makes immediate mold restoration vital to your recovery.
It's essential to call upon real experts for mold decontamination. Whether you just have mold on the walls or need us to remove mold from carpet, you are always at risk of toxicity from the mold. 
A certified mold remediation technician knows how to administer black mold cleanup safely, limiting health risks to you, your loved ones, and your pets.
For the most reliable restoration services in McFarland, you can count on 911 Restoration of Bakersfield. No matter what form of mold restoration you need, the technicians in Bakersfield have you covered. Call our mold removes to get your Fresh Start today!
Servicing the cities of Arvin, Bakersfield, Buttonwillow, Delano, Edison, Kern County, Lamont, Lost Hills, McFarland, Mettler, Oildale, Pine Mountain Club, Shafter, Tehachapi, Wasco, Wheeler Ranch, and surrounding areas.