Mold Removal in Tehachapi
Mold spores are everywhere, indoors, outside, on your clothes, and your furniture. Tehachapi is no different, and property owners need to be aware of how widespread this problem is. Usually, mold spores stay dormant, but when moisture is added to the environment, those spores can begin growing within 24 hours. 911 Restoration of Bakersfield understands the urgency of situations involving mold, mainly if the circumstances also include water damage. Our technicians are not only certified mold specialists, but they are experts at conducting water damage restoration. 911 Restoration employs repair techs that are IICRC certified to administer water and mold cleanup in residential and commercial properties.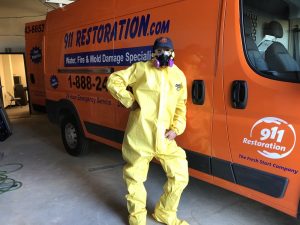 It is crucial to work with a mold restoration company that understands the connection between mold and water damage. The only way to truly eradicate a mold infestation is to mitigate the water damage causing it.
Customers can expect to receive water extraction services when they reach out for mold restoration in Tehachapi. Technicians will conduct thorough structural drying and dehumidifying techniques to remove as much moisture from the property as possible. 
911 Restoration of Bakersfield only works with the most qualified mold specialists in the industry. They want to make sure their customers are receiving top-of-the-line restoration services.
Along with working with dedicated technicians with years of experience, the entire mold removal company is licensed, bonded, and insured for the protection of all their customers.
Pipe Bursts Can Be The Catalyst To A Mold Infestation
Winters in Tehachapi can be cold, with December and January being the coldest months of the year. When temperatures drop so low, there is the possibility of a pipe burst from occurring, especially if your plumbing system is old.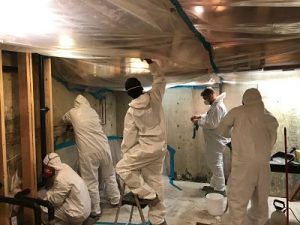 Cold, winter temperatures can take a toll on the pipes in your property, sometimes causing them to freeze and crack. When a pipe bursts, it can create extensive flood damage that needs to be repaired by a professional.
If the water damage is left to sit for as little as one day, mold can begin to grow. The warm, indoor temperatures will facilitate an environment conducive to mold growth.
To minimize the chances of an infestation, property owners should reach out to 911 Restoration of Bakersfield as soon as they experience a pipe burst, or any water emergency, inside their home or business.
Technicians will initiate water extraction, drying, and dehumidifying services, ensuring that the water damage will be promptly mitigated. They will then focus on administering mold cleanup services.
911 Restoration of Bakersfield stands out among the other mold mitigation companies due to its ability to offer comprehensive, water damage and mold restoration services to the community.
Call the certified mold specialists you can trust to take care of every aspect of your mold problem. We will give you the peace of mind you need to get through any situation.
Mold Restoration Handled With Professionalism And Precision 
When customers call our office reporting a mold concern, more often than not, they are feeling overwhelmed and have many questions regarding the repair process.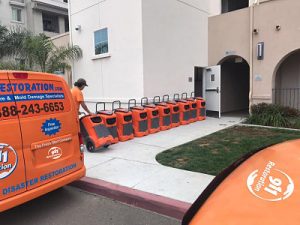 911 Restoration of Bakersfield is a trusted authority on mold, and our staff will be able to give you the answers you need.
By scheduling an appointment for technicians to provide you with a mold inspection, you will get a clearer picture of what you are dealing with inside your property.
The initial assessment will allow technicians to provide you with an estimate to help you understand the mold rehab cost. This inspection will also let the repair techs determine the extent and source of the mold issue.
If it turns out that a ceiling leak or a pipe burst is the cause of the infestation, then they will be prepared to administer prompt water damage restoration services in conjunction with the mold cleanup.
Anything your property requires you can be sure our technicians will provide. Keeping you feeling safe and secure amid a mold intrusion is the top priority of 911 Restoration.
Our technicians focus on customer service as much as they do on mold restoration. So, call 911 Restoration of Bakersfield when you need help and let us prove our dedication to giving you a Fresh Start today! 
Servicing the cities of Arvin, Bakersfield, Buttonwillow, Delano, Edison, Kern County, Lamont, Lost Hills, McFarland, Mettler, Oildale, Pine Mountain Club, Shafter, Tehachapi, Wasco, Wheeler Ranch, and surrounding areas.