Mold Removal in Oildale
The hot climate of Oildale contributes to the widespread, indoor mold problem in the area. When moisture invades homes and businesses, the damp, dark, warm areas of the property can become a breeding ground for mold. 911 Restoration has been in the mold restoration industry for decades, and its technicians expertly understand how to mitigate infestations. Customers can have complete confidence in our certified mold specialists. 911 Restoration of Bakersfield employs IICRC certified technicians who have years of experience administering mold cleanup services in both residential and commercial properties. Along with working with qualified professionals, the entire mold removal company is licensed, bonded, and insured for your protection.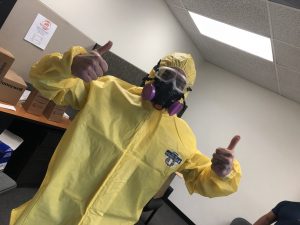 Property owners will receive a free visual mold inspection, allowing repair techs to determine the extent and source of the infestation. This assessment will enable technicians to formulate an estimate of the mold restoration.
Technicians are prepared to provide customers with extensive mold cleanup in Oildale, along with water damage restoration and structural repairs. They will also focus on drying and dehumidifying procedures.
It is crucial to mitigate any water damage that may be contributing to the mold problem. Indoor mold is typically a product of long-term moisture issues inside the property.
The repair techs at 911 Restoration of Bakersfield are experts at providing water damage restoration. They will make repairs and initiate drying services to prevent future mold infestation from occurring.
When you work with 911 Restoration, you can have peace of mind that every aspect of your mold problem will be rectified. Call the mold specialists you can trust to give you the Fresh Start you deserve.
Cleaning Services For Mold And Water Damage
Mold is usually a byproduct of unmitigated water damage. Although it may seem dry in Oildale, when there is water damage inside, the hot temperatures can create a moist, warm indoor climate.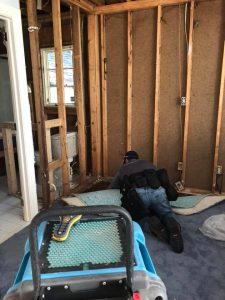 It only takes 24-48 hours for mold spores to begin developing into an infestation, making expedient water and mold restoration vital to the complete recovery of your property.
When technicians arrive, they will conduct a visual mold inspection of the damage. Once they have developed a course of action, they will begin the mold cleanup effort, usually the same day they arrive.
Our mold removers will get into all the overlooked places in the home or business, such as in the attic, air ducts, and crawlspace. These are all spaces that mold frequents.
They will also conduct leak detection services to check for entry points for water. By repairing any ceiling water damage or roof leaks, you will drastically reduce the chances of incurring future mold problems.
However, if you currently have mold in your property, technicians will set up containment barriers and use specialized cleaning agents to decontaminate the affected area wholly.
For comprehensive mold restoration in Oildale, call 911 Restoration of Bakersfield today. Our experienced technicians will eliminate mold and provide you with peace of mind.
Mold And Mildew Specialists The Oildale Community Can Trust
911 Restoration of Bakersfield understands the level of confusion that you may be feeling when you suspect that mold may be infesting your property.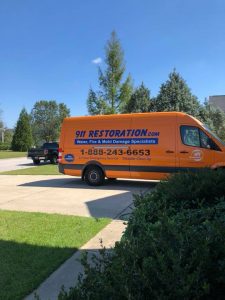 You may not know if your situation warrants professional services and, if it does, you will have questions regarding the mold rehab cost. Fortunately, by calling our mold experts, you will get the answers you need.
Staff members will send a mold specialist to your property to assess the situation. You do not have to worry about taking a financial risk when you take this step because we provide property owners with free inspections and estimates.
Mold restoration is so much more than just cleaning mold on drywall. A successful mold cleanup job will decontaminate your property and ensure you're not exposed to harmful spores.
Call 911 Restoration of Bakersfield at the first sign of mold in your home or business. Their mold specialists care and understand what you need from a restoration company.
Servicing the cities of Arvin, Bakersfield, Buttonwillow, Delano, Edison, Kern County, Lamont, Lost Hills, McFarland, Mettler, Oildale, Pine Mountain Club, Shafter, Tehachapi, Wasco, Wheeler Ranch, and surrounding areas.