Mold Removal in Lost Hills
Many property owners in Lost Hills reach out for professional mold restoration only after they notice the visual signs of an infestation in their home or business. It is crucial to understand that most of the time, mold is growing right under your nose without you ever being able to see it. 911 Restoration of Bakersfield has been in the mold removal industry for decades, and their technicians know exactly where to look for mold colonies. They will provide property owners with a free visual mold inspection, which will allow them to check all the crevasses of your property. By reaching out to our mold specialists, you can have peace of mind that they will catch a mold infestation before it spreads throughout your home or business.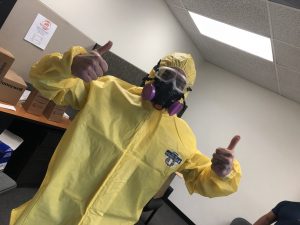 Customers can trust that our technicians will decontaminate their property in full due to their decades of experience and IICRC certification. Our mold specialists have reached the highest standards in the industry as set by the Institute of Inspection, Cleaning, and Restoration.
911 Restoration's technicians are qualified to administer IICRC certified mold restoration in both residential and commercial properties. The entire mold mitigation company is licensed, bonded, and insured so you can feel totally protected when you hire our repair techs.
Along with thorough mold cleanup services, technicians will administer water damage restoration as needed. Water damage is the top instigator of mold and needs to be promptly removed to ensure the infestation does not come back.
We want to make all our customers feel at ease once technicians arrive on the scene, knowing that they will take care of every aspect of the mold restoration process. So, when you need expert mold removal in Lost Hills, call 911 Restoration of Bakersfield today!
Black Mold Cleanup Conducted With Precision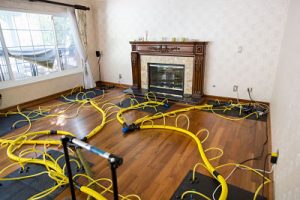 Exposure to certain kinds of hazardous molds can cause you to experience health issues that include allergies, respiratory problems, and infections. By reaching out to 911 Restoration of Bakersfield, you will work with technicians who are determined to keep you safe.
If you have black mold growing inside your property, then immediate mold decontamination is needed. Our specialists are experts at administering black mold cleanup in Lost Hills safely and efficiently.
Black mold is usually the result of an ongoing moisture problem, so cutting off the water supply to the mold is critical. Technicians will conduct structural drying and dehumidifying services, as well as administering any water damage repairs.
There is no need to put yourself at risk by cleaning hazardous mold on your own. Call 911 Restoration of Bakersfield immediately, and we will take care of everything as soon as we get on site.
A Mold Removal Company That Will Stay By Your Side
It can be distressing to realize mold is growing inside your home or business. Not only is it unsightly, but it can be a potentially dangerous situation that needs immediate attention.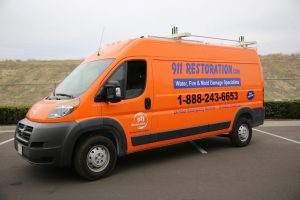 The mold specialists at 911 Restoration of Bakersfield will treat incidents involving mold as emergencies, and they will respond with great urgency. We never want to keep you waiting for assistance.
As soon as a service agent has scheduled a time for technicians to give the property owner a free visual mold inspection, you can breathe a sigh of relief. From that point on, you will be under the care of the most experienced technicians.
By conducting this initial assessment, technicians will be able to give you a cost estimate for mold removal. They will also determine whether or not water damage is a contributing factor of the infestation.
On top of everything, 911 Restoration of Bakersfield wants to make sure you are receiving the customer service you deserve. Staff members are available to answer your questions and explain the mold cleaning procedures to you.
Call our professional mold removers when you need assistance with anything, from mold cleanup to water restoration. We will show you that a mold intrusion can be turned into a Fresh Start today!
Servicing the cities of Arvin, Bakersfield, Buttonwillow, Delano, Edison, Kern County, Lamont, Lost Hills, McFarland, Mettler, Oildale, Pine Mountain Club, Shafter, Tehachapi, Wasco, Wheeler Ranch, and surrounding areas.