Mold Removal in Wheeler Ranch
Indoor mold can be growing right under your nose without you knowing it is there until significant damage has occurred. Mold is everywhere, just waiting for moisture to come and allow it to grow. It only takes 24 hours for formant spores to start developing into an infestation, making prompt mold restoration crucial. 911 Restoration of Bakersfield understands the necessity of fast and efficient mold cleanup services. Their technicians are ready to execute professional mold removal in Wheeler Ranch on a moment's notice. When you call our office reporting a mold problem, service agents will immediately schedule an appointment with our mold experts.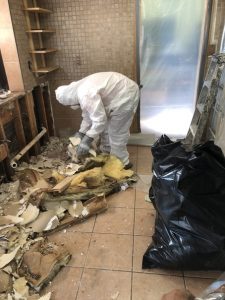 Property owners will receive a free visual mold inspection, allowing technicians to assess the extent of the damage, determine the source of the infestation, and formulate a cost estimate for mold removal.
Our mold specialists are trained to administer both water and mold cleanup in residential and commercial properties. Water restoration is an integral part of the restoration process since water damage is often a contributing factor.
Customers can have total confidence in 911 Restoration's ability to execute a mold decontamination plan that will recover your property from even the most severe infestations.
We employ IICRC certified technicians who have reached the highest standards in the industry as set by the Institute of Inspection, Cleaning, and Restoration.
On top working with experienced, qualified professionals, the entire mold restoration company is licensed, bonded, and insured for the protection of their customers.
Keeping the Wheeler Ranch community safe from the effects of mold is our top priority. Call 911 Restoration of Bakersfield as soon as you notice signs of mold and mildew in your home or business today.
Understanding The Signs Of Mold In Your Home Or Business
Mold is an issue that can affect any structure. Whether you own a home, multifamily property, warehouse space, retail store, or commercial building, you need to be on the lookout for signs of an infestation.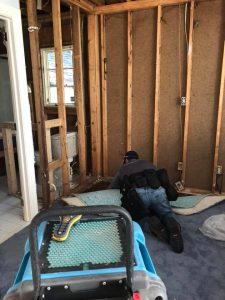 Sometimes it is evident that you have mold growing in walls or on your ceiling, but in other cases, you have to rely on your other senses. 
Mold and mildew emit a musty odor that is hard to miss. If you notice that smell in certain areas of the property, then it is wise to have a professional inspect the area.
Many people are sensitive to mold spores. If you are regularly exposed to the spores, you may realize that you experience allergies or respiratory issues only when you are inside your property.
You can stay on top of mold in your home or business by remaining aware of these signs. By reaching out to 911 Restoration of Bakersfield for professional mold removal, you can stop an infestation from spreading throughout the entire property.
The mold experts will take a thorough assessment of the area, making sure to check the attic, crawlspace, air ducts, and all those hard-to-reach places that are not easily accessible.
Mold Experts That Will Answer All Your Questions Today
It goes without saying that when you reach out for mold cleanup in Wheeler Ranch, you will have questions regarding the mold removal process.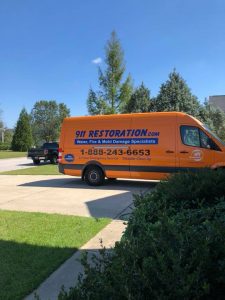 The on-site technicians will be able to explain the mold rehab cost as soon as they perform their initial mold inspection. They will also be able to determine if a moisture problem is the cause of the mold.
911 Restoration of Bakersfield can conduct mold and water restoration, taking special care to focus on drying and dehumidifying services. Getting your property as dry as possible will help prevent future instances of mold.
Even if you only have mold growing under your kitchen sink, you should contact the mold specialists. A seemingly small incident may turn out to be a major problem behind the scenes.
Call 911 Restoration of Bakersfield for mold removal today, and the highly trained technicians will show you that a mold infestation can be the Fresh Start you have always wanted!
Servicing the cities of Arvin, Bakersfield, Buttonwillow, Delano, Edison, Kern County, Lamont, Lost Hills, McFarland, Mettler, Oildale, Pine Mountain Club, Shafter, Tehachapi, Wasco, Wheeler Ranch, and surrounding areas.