Mold Removal in Mettler
911 Restoration of Bakersfield wants to be the trusted source of mold restoration in Mettler. Their technicians are IICRC certified by the Institute of Inspection, Cleaning, and Restoration, which sets the highest standards in the industry. Along with employing qualified, experienced professionals, the entire mold removal company is licensed, bonded, and insured. This status ensures that all of our customers are protected in full when they hire our mold specialists. Keeping you feeling safe and secure is our top priority. By giving property owners free visual inspections, we can hopefully catch infestations at their earliest stages.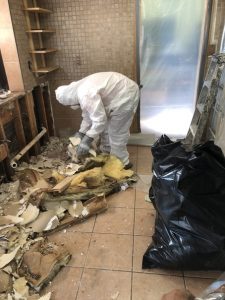 At 911 Restoration of Bakersfield, mold restoration is so much more than just cleaning mold on drywall. Our specialists get to the root of the problem by taking a full assessment of the situation.
More often than not, water damage is a contributing factor to mold intrusions. The only way to complete a successful mold removal job is also to address any moisture issues found on site.
Hazardous mold, such as black mold, is usually the result of long-term moisture problems. This link to water damage makes it crucial to hire a restoration company that is capable of administering both water and mold cleanup.
Call 911 Restoration of Bakersfield to receive comprehensive mold remediation services from a team that cares and understands what you need to make a full recovery.
Water Damage To Wood Structures Can Lead To Mold Colonies
The only way to sufficiently eliminate mold from your home or business is to take care of any water damage that may be contributing to the infestation.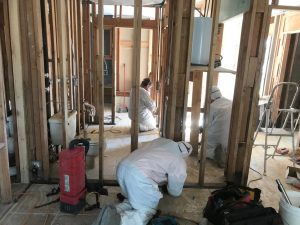 Mold not only needs water to survive, but it needs food. Wood and drywall typically found inside homes and businesses act as significant food sources. When moisture is added to the environment, mold will eat right through these materials.
The connection between moisture and mold is a strong one, with mold colonies often sprouting from wood and drywall that has become water damaged either by a leak or flood.
When technicians are called to administer mold restoration services, they will first check for signs of unmitigated water issues, such as cracks in the property's foundation, roof leaks, and pipe bursts.
They will conduct water restoration in conjunction with the mold cleanup, emphasizing structural drying and dehumidifying procedures. By removing as much moisture as possible, technicians will help prevent the mold from growing back.
Once the water damage is contained, technicians can focus on mold removal. By using specialized cleaning agents, repair techs can thoroughly decontaminate the affected area.
Call 911 Restoration of Bakersfield the moment you notice signs of either mold or water damage in your property. Our technicians will get to work immediately to put a mold cleanup strategy in place today.
Mold And Mildew Specialists That Will Take Care Of You
On top of providing the Mettler community with affordable, efficient mold restoration services, 911 Restoration of Bakersfield is dedicated to exceptional customer service.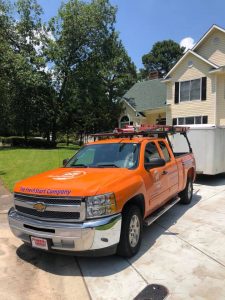 Understandably, it can be challenging to deal with the knowledge that mold has invaded your beloved home or business. To make this ordeal easier on you, the staff makes themselves available to answer all your questions.
Many customers immediately want to know the mold rehab cost. This question can be answered by technicians when they get on the scene. Their initial mold inspection includes a cost estimate for mold removal services.
Property owners always want to know if they have black mold growing inside their home. To answer this question, repair techs will take professional mold samples and send them to a third-party laboratory.
911 Restoration of Bakersfield will handle every aspect of the mold restoration with professionalism and customer service matched by none of the other mold mitigation companies.
Call the mold specialists you can confidently hire to take care of you throughout the entire restoration process. They will show you that a mold problem can be the beginning of a Fresh Start for you and your family.
Servicing the cities of Arvin, Bakersfield, Buttonwillow, Delano, Edison, Kern County, Lamont, Lost Hills, McFarland, Mettler, Oildale, Pine Mountain Club, Shafter, Tehachapi, Wasco, Wheeler Ranch, and surrounding areas.