Mold Removal in Delano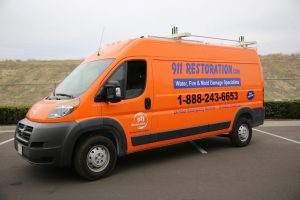 Heavy rains are all too common in Delano. With these storms comes the threat of water damage. And with water damage comes the threat of mold.
Whether you know you have a mold infestation or you only suspect you have one due to that musty smell and aggravated allergies, let 911 Restoration of Bakersfield be your first choice for mold inspection and mold remediation. Give us a call at 661-220-7584. 911 Restoration is licensed, insured, and bonded. Our mold cleanup technicians are all highly trained in mold decontamination, with IICRC certification.
Just as important, each and every mold remediation expert on the 911 Restoration staff views you first and foremost as a neighbor. They know how much is at risk when you have a mold infestation, from property damage to personal health risks. That's why they take every step to give you the most thorough mold inspection possible and to decontaminate your property from top to bottom.
At 911 Restoration, we believe every challenge is an opportunity for a Fresh Start. If you need mold remediation in Delano, consider us your partner in eliminating the infestation, preventing future growth, and repairing damages so your home or business is better than new.
If you're ready to breathe easy again and put mold in your past, call the mold decontamination experts at 911 Restoration of Bakersfield, reach us at 661-220-7584 and you can be sure that we will answer your call no matter the time of day.
Professional Mold Remediation And Decontamination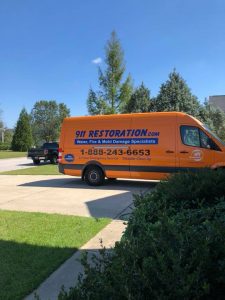 Mold can be a serious source of stress for residential and commercial property owners alike. This form of property damage can be especially aggravating because colonies often thrive in dark, hard-to-see places. You may not even realize you need mold cleanup until you start to notice the smell or wake up with headaches.
Don't wait until you can see the mold to seek out mold removal services. If you suspect you may have an infestation, call us right away at 661-220-7584 for a through mold inspection. Mold is an organism that feeds on wood, paper, and even glue. The longer you wait on mold decontamination, the more time to give this infestation to literally eat away at the structures of your property.
The mold experts then handle mold removal with the utmost care. They know how easily spores spread throughout a property. You can count on your dedicated mold remediation crew to eradicate the colony without creating a risk of mold growth in other areas of your home or business. Then, they use professional drying tools to dehumidify the structure where mold was discovered. This ensures that mold will not be returning anytime soon.
Mold can be a truly destructive force. But with 911 Restoration of Bakersfield on your side, you're the one in control. Contact us today for professional mold inspection in Delano.
Certified Mold Specialist In Delano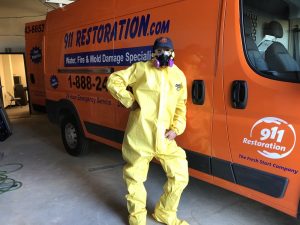 If you think you have a mold problem, you must resist the urge to scrub it away yourself.
There are no reliable home remedies for mold removal. Plus, scrubbing at a mold colony causes a release of mold spores, increasing the risk of developing another infestation. Most importantly, however, certain varieties of mold are dangerous to your health. Black mold, for example, contains mycotoxins that can cause toxicity in your system if you breathe those mycotoxins in. This can lead to headaches, dizziness, respiratory issues, and even heart problems. If you disrupt a black mold colony, you're likely to release mycotoxins into their air and into your lungs.
This is why you need a certified specialist for mold removal in Delano. Give us a call at 661-220-7584 for a free visual inspection. The mold cleanup staff at 911 Restoration has both the tools and expertise to decontaminate your home or business without spreading spores or toxins. They guard your health as if it were their own.
From a thorough mold inspection to full-service mold decontamination and property repairs, 911 Restoration of Bakersfield makes your infestation a distant memory. They work efficiently and compassionately to minimize costs and deliver true peace of mind.
If you're ready for a truly Fresh Start, call 911 Restoration of Bakersfield today at 661-220-7584.
Servicing the cities of Arvin, Bakersfield, Buttonwillow, Delano, Edison, Kern County, Lamont, Lost Hills, McFarland, Mettler, Oildale, Pine Mountain Club, Shafter, Tehachapi, Wasco, Wheeler Ranch, and surrounding areas.