Mold Remediation in Kern County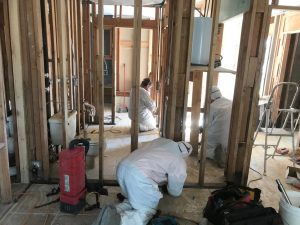 Even the smallest spot of mold growth can mean high anxiety for property owners in Bakersfield, Edison, and the surrounding communities. Not only does a mold infestation pose a threat to your drywall and carpets; it also poses a threat to your health.
Worse, mold is easy to miss, sometimes difficult to identify, and challenging to remove.
Fortunately, the expert mold remediation staff at 911 Restoration of Bakersfield know how to act quickly to remove mold and prevent against future infestations.
Our technicians are highly trained and IICRC certified, so you can be confident they know how to resolve your problem safely, efficiently, and thoroughly.
Even better, the professionals at 911 Restoration are also experts in water damage restoration. If your infestation is the result of a ceiling leak, property flood, or any other water-related incident, you can trust that your designated techs won't just remove the mold. They'll also repair the source of the problem.
Mold can be a mysterious threat hidden in the dark corners of your home. When the mold remediation techs shine their light on it, your infestation doesn't stand a chance. You can stop worrying about that suspicious spot on your ceiling, that slimy mold in the pipes, or the invisible source of your allergies.
Instead, call us today, and let the caring professionals at 911 Restoration of Bakersfield make your home or business new again.
Mold Decontamination By Certified Specialists In Bakersfield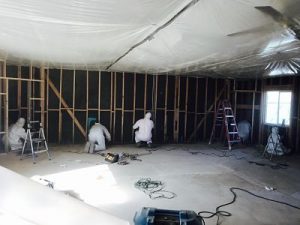 When you discover an infestation in your home, it may be tempting to handle mold cleanup yourself. The reality is that while scrubbing mold with household cleaning products may seem like the economical option, it's likely to cost you more in the long run.
In most cases, truly effective mold removal requires professional tools and know-how. Even if mold appears to have disappeared after testing a home remedy, you're still likely to see that stubborn colony rise again. A certified expert knows how to perform full mold decontamination, removing the colony entirely. Furthermore, the professionals at 911 Restoration can detect the source of the infestation and repair any structural damages that might be inviting moisture into your property.
In addition to being ineffective, trying to handle mold remediation with a home remedy could create health risks. Contact with toxic colonies causes the mold to release toxins into the air—and directly into your lungs when you're standing in close proximity, scrubbing away at the growth.
Our IICRC certified mold specialists will clean up your infestation swiftly, thoroughly, and at limited cost to you. They offer free visual inspection for property owners and even take mold samples to a third-party laboratory for scientific identification. After they remove the mold safely and completely, they follow up with structural drying and dehumidifying to discourage a recurrence.
Your dedicated mold cleanup team communicates with you every step of the way. By the time they leave, you'll be able to finally breathe easy knowing every colony has been found and every hazard has been discovered and eliminated.
Don't spend another second wondering if you should be worried about that patch of mold on your basement drywall. Call 911 Restoration and let our specialists deliver fast service and peace of mind.
Removing Black Mold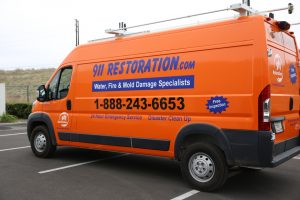 Every property owner dreads the possibility of finding black mold in their home or business. As the most infamously toxic variety of mold, black mold is the subject of countless articles, debates, and motherly warnings. But why?
Black mold releases mycotoxins in to the air. While mycotoxins don't pose a major threat in small, infrequent doses, property owners do need to be cautious about the damages mycotoxins cause when black mold is allowed to linger and flourish.
Heightened exposure to black mold increases the amount of mycotoxins that enter your body through your breath. As these elements build up inside your system, they can cause a variety of health problems, including respiratory issues, frequent headaches, and potentially even heart problems.
While black mold is not the only hazardous mold, you are right to be concerned about its presence on your property. The best way to handle toxic mold is to try to stay out of the area of growth and contact a professional mold decontamination company right away.
The mold removal technicians at 911 Restoration of Bakersfield treat your unique situation as if it were their own. They act quickly and carefully, removing the infestation without kicking an excess of mycotoxins and mold spores into the air.
They recognize how quickly mold spreads, both within a single colony and to other areas of the property. That's why they do everything they can to ensure your home or business is guarded against future toxic growth.
A relentless mold infestation can make a former refuge feel like a dangerous place. At 911 Restoration, we want to help you recover that feeling of health and security. Call us today and let our expert mold remediation staff give you a Fresh Start.
Servicing the cities of Bakersfield, Buttonwillow, Wasco, Shafter, Lost Hills, Delano, Lamont, Arvin, Mettler, Wheeler Ranch, Edison, Oildale, Pine Mountain Club, Tehachapi, McFarland, Kern County, and surrounding areas.