Sanitization Services in Bakersfield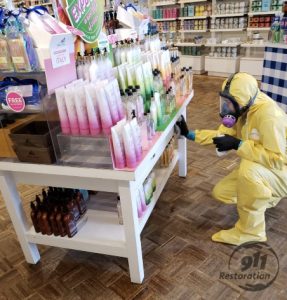 You can take proactive steps to clean and sanitize your property in Bakersfield. Keeping your property sanitized and disinfected is very important, especially as the coronavirus moves through our community. You can get professional sanitization services from 911 Restoration of Bakersfield to help your employees and customers feel peace of mind while in your property.
Here at 911 Restoration of Bakersfield, our crews are on-call 24/7/365 at 661-220-7584. We understand the most current protocols set by the Centers for Disease Control and Prevention (CDC) and the Environmental Protection Agency (EPA). You can contact us if you need help with:
Office deep cleaning

Sanitization of retail spaces

Disinfection of residential properties
Coronavirus spreads quickly from one person to another. The virus can also live on surfaces for some time after someone coughs or sneezes in the area. However, properly cleaning the area with a specific bleach mixture can kill the virus on surfaces, according to the CDC.
911 Restoration of Bakersfield uses professional-grade cleaning solutions for commercial and residential properties in our area. We can work out a schedule that works for you and start sanitization services in Bakersfield today, give us a call at 661-220-7584. Cleaners in bakersfield ca can reach your property in under an hour to start sanitization and disinfection.
Get Peace of Mind with Sanitization and Disinfection Services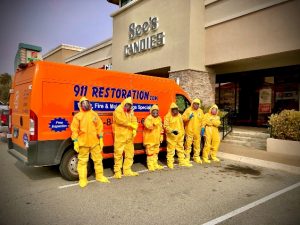 The coronavirus is spreading quickly through communities around the world. While the virus is similar to the flu, it is far more contagious that standard influenza. It may be transmitted for a longer period of time by people who do not realize they are infected yet. This means anyone who touches a surface in your property could leave behind traces of the virus, even if they aren't coughing or sneezing.
Fortunately, you can take steps to keep your office or retail space disinfected by contacting 911 Restoration of Bakersfield at 661-220-7584. Our sanitization crews are trained in comprehensive cleaning techniques. We use professional-grade cleaners to disinfect and sanitize your property.
You can maintain your peace of mind by keeping your property sanitized during the COVID-19 outbreak. You can also contact 911 Restoration of Bakersfield if your business closes temporarily in response to the coronavirus, give us a call at 661-220-7584.
Our team of sanitization and disinfection techs can provide a deep clean for your office, retail space, or other commercial property. You can feel confident about reopening to the public after you allow us to clean and sanitize your property, so reach out to us now.